4.9 Release Notes
This release, version 4.9, focuses on our exciting new UI (User Interface). The new look and feel gives ThriveDX's Security Awareness Training solution a more intuitive and sleek look that is easier to navigate. With the aim to delight our customers, this UI enhancement puts the users in the center so that they can focus on what matters most, providing effective security training to their colleagues.
1. Main Updates
Brand new User Interface including:

New color scheme and styles

Reorganized main menu and lower-level menus

Smishing in the USA - ability to use custom domain for URL Shortener

Security improvements
2. Detailed Description of UI Changes
2.1 Login Page
2.2 Main Menu
Relocated from the very top to the left

Added minimize & expand option

Added icons

Some items changed location to create a flatter menu

Some items were grouped under new tabs for better organization and to minimize the need to scroll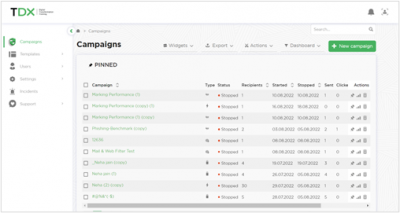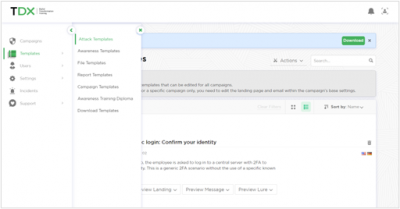 Details of changes in locations of tabs in the main menu:
Profile moved to the right

License moved from Support to Profile

Password moved under Account (in Profile menu)
Changes in the order of main menu tabs:
Campaigns → Templates → Users → Settings → Incidents → Support

Templates moved one tier up from underneath Settings to the main menu

User related settings moved one tier up from underneath Settings to the main menu

Settings:

Domain related settings were grouped under "Domain Management"

Backup, Migration Tool, and Exports moved from Support to Settings under "Backup & Restore"

Support: Some items were grouped in new sub-tabs: Status, System Tests, and System Logs

Tools tab was canceled and the items underneath it moved:

Mail Spoofing Test moved from Tools to Support→System Tests

Mail & Web Filter Test moved from Tools to Support→System Tests

File Browser moved from Tools to Settings

Sessions functionality was canceled altogether
2.3 Campaigns Page
Details of updates:
Widgets moved from the right to the left

New Campaign moved from the left to the right

Select button was removed and instead Select All functionality was added to the table itself

Search moved from the left to the right
2.4 Campaign Wizard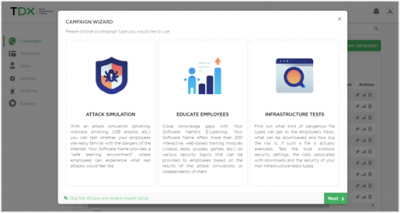 Campaign Wizard Type - three options available:
Attack Simulation

Educate Employees

Infrastructure Tests
The link to Engage Employees was removed from this location (it was already deactivated in previous versions).
2.5 Campaign Summary Page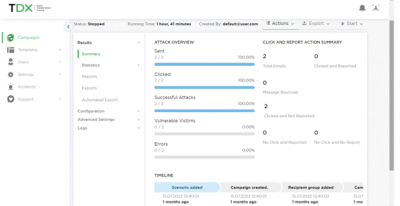 Minor design changes:
Exposed elements in tier 1 are now aggregated in tier 2 under Actions:

Reset Stats, Report, and Save as Template

Some pie charts are now presented at bar charts

Timeline at the end of the page is now horizontal instead of vertical
2.6 Templates
release_notes.txt · Last modified: 2022/09/21 11:32 by editor8
---